Palacio del Flamenco, Pasión Flamenca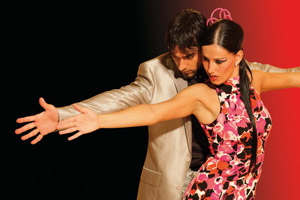 Flamenco singers, dancers, guitar players and other musicians offer a powerful staging and musical event. A journey through different types of Flamenco provides the lover of the Spanish music the opportunity to participate intensely in this art performance while the audience will be able to enjoy a wonderful and unforgettable night.
The show is made up of original choreography acts including as well soloist acts. The night begins with the unique and enthusiastic performance of the flamenco group. The guitar and the sound of the palms accompany the "taconeo" and the movement by the "bailaores" and on this manner lead us into this enthusiastic world.
The music, originally created for this show, is interpreted live, giving rise to a full picture of plastical beauty, light and strength. The improvisation and interaction between the musicians and the bailaores make the show different day-to-day.
Menus:
Menu Gaudí
First course: Seefood Paella
Second course: Entrecot with pepper sauce
Dessert: Profiteroles with chocolate
Drinks:

Rioja red wine (a bottle for 2 people)
Cava Brut Nature (a glass per person)
Mineral water and coffee
Menu Barcelona
First course: Fideua with prawns
Second course: Duck confit with wine sauce
Dessert: Profiteroles with chocolate
Drinks:

Rioja red wine (a bottle for 2 people)
Mineral water
Menu Salmon
First course: Bowl of Salad
Second course: Salmon with vegetables and mushrooms
Dessert: Profiteroles with chocolate
Drinks:

Rioja red wine (a bottle for 2 people)
Mineral water